Hi all - feeling at a huge loss as to what I can do to help with the horror of the bushfires currently raging in Victoria.
Have a look at the Handmade Help blog - the idea that a lot of crafty people can work together to sell items to raise money for the victms, or to make some things to send to the people who have lost everything - especially the children.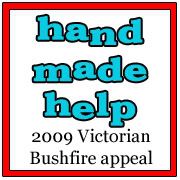 click on the button above to go to the Handmade Help blog to see how you can help.
Prayers and thoughts with all the people touched by this terrible tragedy.