I don't know if you all are fans of
"Hattie and the Fox"
but it's one of my kids' favourite books and whenever I exclaim I think of it! We Love love love
Mem
Fox in this house. You can read all about her
here
. But I digress . . .
It's been nearly a year! Yes! A year! Where has that time gone? What have I been doing? Are you still out there? All questions that I ask myself on a regular basis.
Well, since you asked . . . our family home has had a massive renovation (September-October-November 2010), the usual Christmas/family stuff happened (December/January) and then I went back to part-time work for the first time in 7 years! Holy Moses and wasn't that a shock to the senses? But I'm recovering well and I should be able to start having a life outside work again soon. How is it that two days a week has taken so much out of my time? It's supposed to be part-time, people! But I suppose that is the nature of teaching - your brain is in teaching mode during term and it takes up a lot of energy. Plus, I think I had forgotten how challenging Year 9 students can be. Oh, but funny! I tell you I just laugh from morning to night -that hilarious brand of teenage angst. (You do know I'm joking, yes?)
Amazingly, I have found some time to do some crafty things. During the June/July holidays, a local shopping centre had this deal - $5 to make your own stuffed bear. So we went along and the kids chose a bear skin each and the lady there put it over a big hose connected to what
actually
looks a lot like a fairy floss machine. The kids stepped on the foot pedal and Voila! The bear skins were filled with lovely soft fluffy filling. The hole in the back of the skin had threads already there that were just pulled up and knotted to close the hole. Very clever. Also very clever were the little outfits they were selling for $10 a pop! I refused to buy the outfits so we went home and made our own.
E's polar bear was definitely a ballerina so we made a leotard and a twirly skirt for her to dance in.
And Oscar's bear became an army doctor.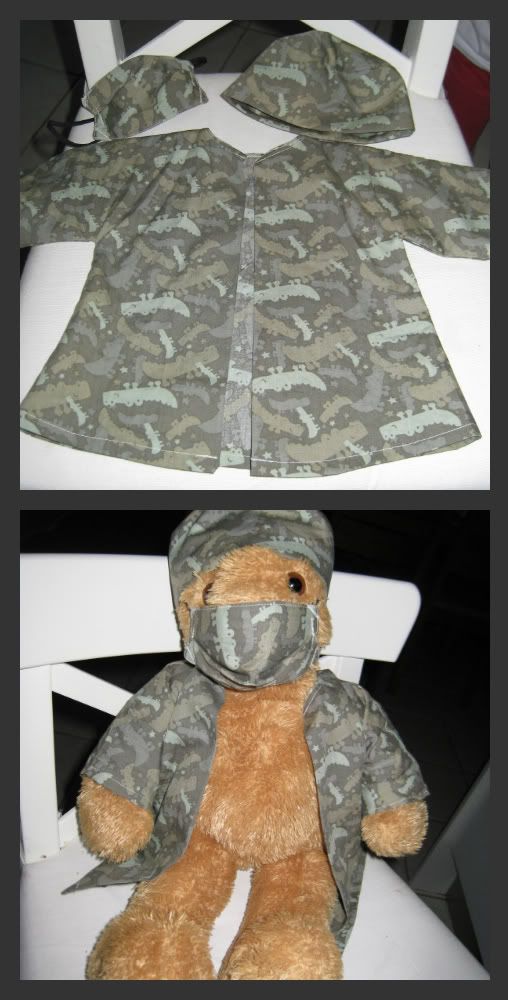 For the doctor's coat I used Enid Gilchrist's dolls' clothes book and I just winged it for the mask and hat. Also drafted a pattern for the polar bear's leotard and it is just a simple two layered circle skirt with elastic waistband.
Oh, it's good to be back!